The Numismatic Literary Guild – Why, When, Where, What, and How?

With these words put to paper and carrying the club letterhead,
NLG
founder Lee Martin set in motion the creation of the coin collecting hobby's premier organization dedicated to promoting numismatic writing.
Martin's goals were ambitious and forward-thinking. He sought to enroll the top talent from the ranks of professional numismatic writers, editors, columnists, book authors, and museum curators, and cultivate a community where they could come together in the spirit of openness and camaraderie, share resources, and ultimately produce better work. It was a time of tremendous growth in the area of numismatic publishing. Magazines and newspapers were going gangbusters, numismatic research was becoming ever more sophisticated, and the enthusiasm that collectors had for joining clubs was at an all-time high. The NLG quickly found a constituency and Martin was off to the races.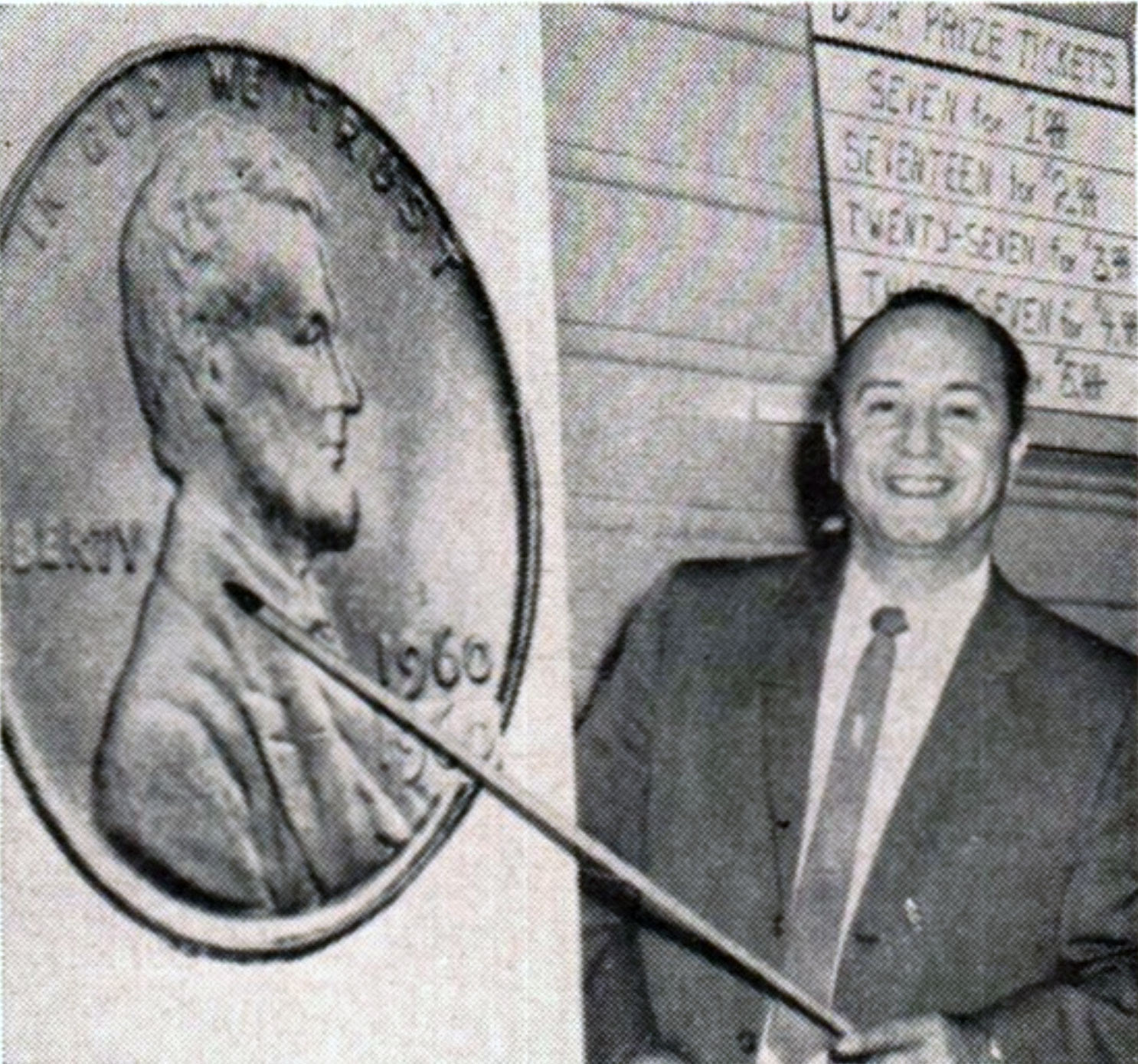 Lee Martin points his fescue at a 1960 Small Date Lincoln Cent
Not everything the NLG's founding fathers (and mothers) set out to accomplish came to fruition. This isn't all that unusual, as these things go. The NLG never built that impressive numismatic library for the benefit of its members, and despite some early work towards the goal, I'm not sure that they ever put together a working database of coin imagery as was mentioned in the club's early newsletters.
But they did create an organization that would sustain itself for more than 50 years, and during that time they enabled many memorable moments. They were able to accomplish this, in large part, due to the commitment of members like you.
My name is Charles Morgan. You may know me from my work as the editor of CoinWeek, but now you will also know me as the Executive Director of the Numismatic Literary Guild. I am honored to serve in this position and humbled to do so at a pivotal time in the guild's history. I came to this role after the service of my two dear friends, Ron Guth and Donn Pearlman. In Ron and Donn, the NLG committed itself to much-needed reforms in our annual awards competition. Ron overhauled the NLG's website, improved how the NLG tracks its memberships and dues, and deftly handled the cancellation of the 2020 World's Fair of Money by taking the NLG Bash online, where I had the good fortune to announce last year's winners.
Ron and Donn did such an amazing job in turning the NLG into a more agile and modern operation, that I gladly accepted the board's invitation to take the Executive Director position. I know that the future of the organization can be a bright one if we renew our mission to promote the betterment of numismatics by returning to the guild's early ideals of fostering camaraderie and promoting the work of our talented members.
For those of you not all that familiar with my work in the NLG, I previously served as a member of the NLG Board. In that role, I put forward many of the category changes that you see in the annual writing competition. I felt that, even though it was a long-established feature of the NLG's awards program, no publication deserved to have its own awards category areas. Giving each publication or program its own category to win essentially year in and year out made the awards less competitive, introduced too many inconsistencies to the rules and award criteria, and created a situation that fostered more cheese-guarding than camaraderie.
There was another reason, as well. The shift in periodical publishing from print to digital created a situation where publications were no longer exclusively committed to one format. Why, then, should the NLG impose this structure upon them?
In breaking down these barriers, we were able to diversify our awards categories and highlight the works of writers who were publishing articles about ancient coins and world coins as well as modern issues. This allowed the NLG to recognize the true diversity of today's numismatic publications.
Another initiative that I championed was the elimination of the Extraordinary Merit award. Extraordinary Merit is an award that should be bestowed only in extraordinary circumstances. Such as if two books were published in the same year that, had they been published in different years, would each have easily won the Book of the Year Award. In this situation, I feel that it is appropriate for the NLG to provide a consolation prize to the runner-up (as happened in the case of the excellent Million Dollar Nickels, award pictured to the right). But the proliferation of these awards had proved costly, not only to the NLG's finances but also to the reputation of our awards program. All well-written numismatic books have merit, but now, far fewer will merit an Extraordinary Merit award from the NLG.
As I take on the task of growing the NLG, one area where I see potential is in the international space. As Executive Director, I will engage with numismatic writers and editors of Europe and Asia to determine the feasibility of bringing them into our community. With their help, I hope to expand this outreach to other parts of the globe as well. I will also work to strengthen our existing relationships with colleagues in Canada and Mexico. Adding international writers to our community will improve our understanding of each other's history, culture, and numismatic traditions.
I will also look for ways for the NLG to engage with individuals outside of the traditional numismatic landscape to recognize content that promotes knowledge about numismatics or novel representation of numismatic objects. If a numismatic object appears in an interesting way in a comic book, video game, or social media, we should be the organization that reaches out to the creators of that content and thank them for exposing a new audience to numismatics.
The numismatic hobby is rapidly changing. Older generations are handing the baton of leadership to younger ones and with that shift, the hobby will experience a period of new sensibilities, ideas, and scholarship. It is up to us, as an organization focused on numismatic literature, to stay on top of developments in the media space. Yesterday's crude numismatic newsletter is today's Instagram account. Yesterday's house organ is today's blog section at a major company. As an organization, we must acknowledge these changes and support our members in their endeavors even if numismatic writing and content production takes forms that would have been unrecognizable years ago. Forever onward!
One last point of emphasis. I would like to challenge you, the members, to engage with me and, through the NLG, engage with each other. The NLG should be a place where we swap notes, provide feedback, and yes, at times, offer corrections. If the membership is willing to have these conversations, I am willing to provide a space to do so. I'd like to connect throughout the year, not just at an awards dinner. If you've made it this far in our newsletter let me ask you for a deliverable. If you have the ability to use an online meeting application like Zoom and would like to hang out with other writers to talk about the trade, email me at info@nlgonline.org and I will set up an NLG virtual event. The first of many that I hope we will produce. These will be recorded and saved for posterity and for the use of current members who couldn't make it.
Let's have fun with this organization because the NLG was always intended to be fun.

***
The Numismatic Literary Guild Directors Seats Guth on Board.
At the April 8 meeting of the NLG Board of Directors meeting, Executive Director Charles Morgan introduced a motion to install outgoing Executive Director Ron Guth to the Board of Directors. The motion was passed unanimously with affirming votes coming from directors Bob Fritsch, Donn Pearlman, Michael Shutterly, Mel Wacks, and Doug Winter.
"I am excited that Executive Director Guth has graciously accepted our invitation to continue to serve the NLG and its members," Morgan said. "Guth has demonstrated a clear devotion to the organization and will prove to be a valuable resource for us as the Guild grows and evolves in the coming years."
Guth is an award-winning author specializing in U.S. and German coins, he is the former president of PCGS and is the founder of CoinFacts.
***
The Business Has to Be Done: 2021 Dues Must Be Paid Before May 1
Following up on what Ron laid out in the March newsletter, if you haven't paid your 2021 dues yet, please do so now. NLG dues are still only $15 a year for regular membership or $250 for Life Membership.
If you aren't sure of your current dues status you can reach out to me and I will confirm.
If you are past due, you can get current by sending your dues checks to our Treasurer, Maurice Rosen, at P.O. Box 38, Plainview, NY 11803-038, or pay by PayPal.
Benefits of membership in the NLG include the nifty new membership cards and lapel pins mentioned below, plus access to the NLG awards competition and the new membership drive.
Your dues support our continuing efforts to promote numismatic writers and recognize their important contributions to our hobby.
Note: You cannot compete in the Annual Awards Competition if you do not have a current membership in the NLG.
***
2021 ANA Convention – An Open Question

In the month since our last e-newsletter, the status of the 2021 World's Fair of Money is still up in the air. For now, the ANA is moving ahead with its plans in the hopes that the event will actually take place. As Ron wrote in March, the NLG has reserved banquet space in case the convention takes place.
If the convention is held, it's likely that attendance numbers will not be at the level we've come to expect from the pre-COVID era and it's also likely that safety protocols will have to be taken into account. A final determination as to what the NLG will do at the ANA summer show will have to wait until we have a clearer picture.
In the event that the convention is not held, the NLG will announce the winners of this year's competition in a Livestream at a time and date to be determined. Winners will be notified by the NLG that they won via email and we will work to distribute awards to all of the year's winners in a timely manner.
As much as we look forward to sharing a meal, a few laughs, and copious numbers of award plaques with you, we want everybody to be safe and healthy. We promise we will return to in-person awards ceremonies as soon as we can.
Speaking of Awards: The 2021 Awards Competition
The rules for the 2021 Awards Competition can be found on the NLG website. Check them over carefully so that when we begin accepting submissions later this year, you'll be ready. IMPORTANT: Please submit your entries as soon as possible!
All entries must be received NO LATER THAN June 5, 2021.
***
A Final Thought – You Never Dig Yourself Out of a Hole
As I wrap up this first issue of our new volume of the NLG Newsletter, I think back fondly at all of the sleepless nights in recent months where I pored over numismatic periodicals from the 1970s and '80s, adding notes to my files of information that I thought was vital, and when I was done with what turned out to be stacks and stacks of cut out, torn apart magazines, I took them to the curb to be recycled. My "working copies" are mostly available in digital form now and my bound volumes of essential periodicals are still safe, sitting on my bookshelves. I am a bibliophile at heart, and despite my writer's budget, I've put together a library of magazines, journals, and books that have served me well throughout the years. In clearing out as many unneeded volumes as possible, I had hoped to fulfill a promise to my wife that there wouldn't be some numismatic this or numismatic that in every corner of the house.
Given my desire to read and support the work of all of my friends in the guild, it occurs to me that I had better buy a bigger house – one with a bigger library – sooner, rather than later.
In the interim, here's to all of the late nights to come, where I'll find myself taking notes and jotting down all of the morsels I can find in the final volumes of Scrapbook and the fantastic mid-1970s run of The Numismatist.
Until next time, the work continues…
Charles Morgan, Executive Director,
Numismatic Literary Guild
Please, email me at info@nlgonline.org
Copyright © 2021 Numismatic Literary Guild, All rights reserved.
You are receiving this email because you opted in via our website.

Our mailing address is:

Numismatic Literary Guild

4640 Cass St # 9119

San Diego, CA 92169-7006